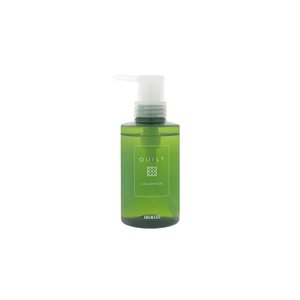 Clean and pure hair care series, Quilt.
Quilt shampoo is recommended for damaged hair that has been repeatedly colored or permed.  Natural cleansing agent removes odor from scalp. Keeps moisture and mildly cleanses with a chunky foam. While caring for your scalp, it refreshes the scalp and makes hair smooth and soft all the way to the tips. Leaves hair shiny, manageable, and smooth to the touch.
Specially selected manufacturing method
QUILT products are made with a manufacturing method in which only certain raw materials are heated, an environmentally-friendly procedure that can reduce the use of electricity and fuel.
They are produced carefully without heating materials such as plant extracts, so the freshness of those materials can be preserved.
Key Ingredients:
Aloe Vera Leaf Extract: Aloe has been used since ancient times. Aloe Vera leaf extract is used to support the environmental conservation activities of the NPO Bigijima Miyakojima, which protects the coral reefs of Miyakojima.
Soap nut extract (Moisture retention): A natural cleanser grown on an organic farm in southern India that removes scalp odors. It is a natural cleanser grown on an organic farm in southern India that removes odors from the scalp, retains moisture, and provides a gentle washing experience. This product is cultivated using agroforestry farming methods that take environmental protection into consideration.
Wool Keratin (Hair Repair): With the same amino acid balance as that of hair, it gives bounce and strength to damaged hair. Sustainable by using wool from discarded parts.
Proteoglycan (Retains moisture): It has excellent moisture retaining properties, and is sustainably produced using waste products. (salmon cartilage)
Comfrey leaf extract: A naturally-derived herb which can help to have a healthy scalp and hair.